Highlights from the latest Q4 2017 Green Bond Report from the Climate Bonds Initiative: Two years of data observations examining green bond behavior in primary markets
Climate Bonds Initiative has released the fourth "Green Bond Pricing in the Primary Market" report analysing the performance of green bonds issued in the period October-December 2017. This is the last quarterly report; future publications will be produced semi-annually allowing a more longtitudinal analysis as the market expands.
The Q4 2017 report covers USD15.1bn or almost 40% of the face value of labelled green bonds issued in Q4. 15 EUR and 8 USD labelled green bonds are analysed in the report.
The detailed methodology is outlined below.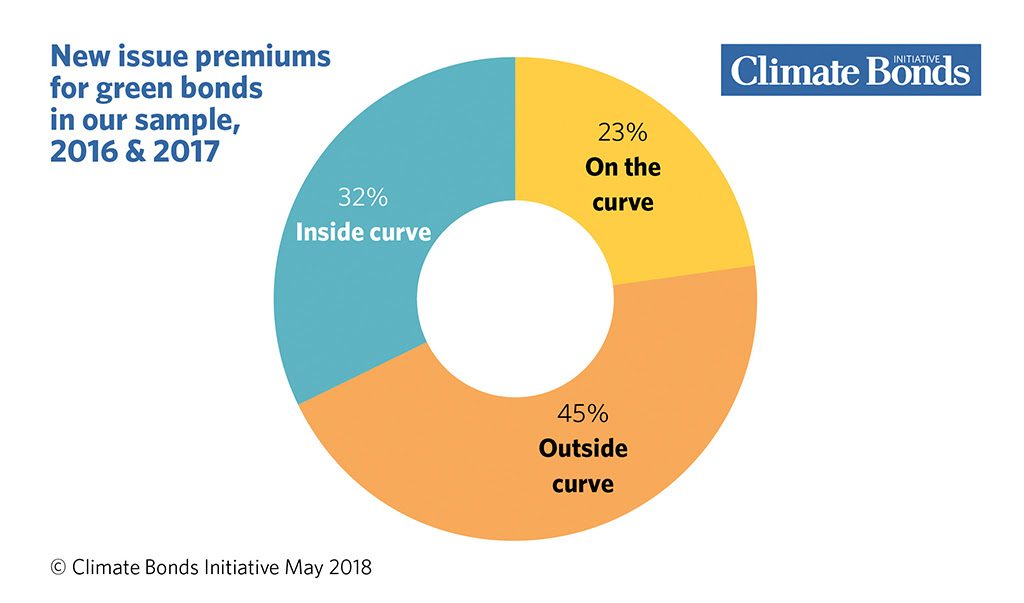 Highlights from Q4 2017:
14 out of 22 issuers are first time green bond issuers
USD green bonds again had larger oversubscriptions and achieved larger spread tightening during book building than vanilla equivalents. EUR green bonds are similar to the market
44% of green bonds were allocated to green investors.  Non-mandated investors continue to support the market
The greenium: new issue premiums are not a given for buyers of green bonds​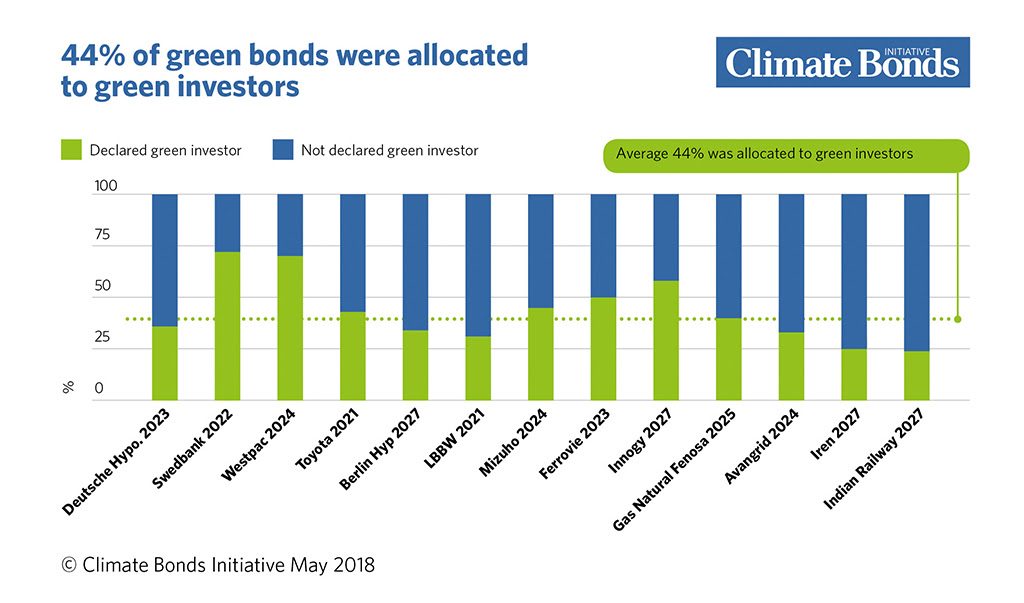 Detailed Findings:
With a full two-year period of data observations, we have seen evidence of green bonds benefiting both issuers and investors.
Diversity within the pool of qualifying bonds remains limited, with corporate bond issuance coming from utility, real estate, and financial sectors. However, with market growth projections for 2018 set at USD250-300bn, we hope to start capturing sector diversification in our future reports.
In Q4 2017 we observed the following:
USD green bonds were more oversubscribed than vanilla equivalents.  EUR green bonds achieved similar book cover to vanilla equivalents.  In both cases, this observation has held true for the last three quarterly reports, for which we have used comparable data.
USD green bonds tightened, on average, more during the book building process than vanilla equivalents.  Again, this has remained consistent for the last three quarters.  Results for EUR green bonds have shown more variation.
Half of the green bonds in our, albeit limited, sample did not exhibit a new issue premium.  We have built yield curves for 42 green bonds issued during the last 24 months.  More do not exhibit a new issue premium, than do.  Evidence of a greenium is mounting.
44% of green bonds were allocated to green bond investors, a slight decline on the prior quarter (47%).  Green bonds continue to attract a broad range of investors.
Just over half of the EUR green bonds in our sample tightened by a larger percentage than the corresponding index after 7 and 28 days.  These numbers are lower than in prior quarters.  USD green bonds continue to lag in the immediate secondary market.
​The Climate Bonds Initiative is an "investor-focused" not-for-profit promoting long-term debt models to fund a rapid, global transition to a low-carbon economy.