The first half of 2018 has been difficult for most investors, including clean energy investors and dividend income investors. Through June, my broad dividend income benchmark SDY lost 0.6%, while my clean energy income benchmark YLCO lost 4.7%, including dividend income.
My picks were also down for most of the year, finally struggling back into positive territory at the end of May.  They finished the first half up a solid 5.9%.  The real money strategy I manage, the Green Global Equity Income Portfolio (GGEIP), also squeaked in to positive territory by 1.2% at the end of June.
Details of then stocks' performance are shown in the chart below.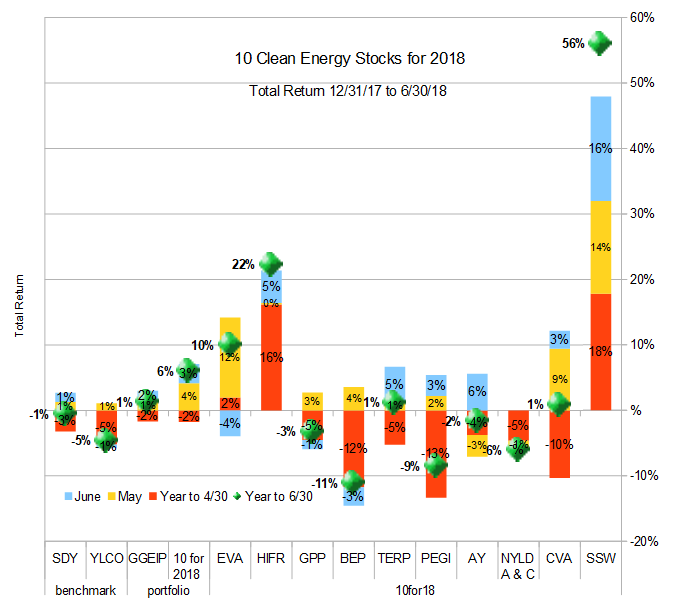 Top Picks
Last month, I highlighted Atlantica AY (at $18.91) and Terraform Power TERP (at $10.83) are my top short term picks.  These two stocks were up 7% and 8% since that writing, significantly more than the portfolio as a whole (2.8%).  I currently think Brookfield (BEP), Covanta (CVA) and Atlantica (AY) have the best prospects for short term gains.
Stock discussion

Below I describe each of the stocks and groups of stocks in more detail.  I include with each stock "Low" and "High" Targets, which give the range of stock prices within which I expect each stock to end 2018.
Seaspan Corporation (NYSE:SSW)
12/31/17 Price: $6.75.  Annual Dividend: $0.50 (7.4%). Expected 2018 dividend: $0.50 (7.4%).  Low Target: $5.  High Target: $20.
6/30/18 Price: $10.18  YTD dividend: $0.25  (3.70%)  YTD Total Return: 56.0% 

Leading independent charter owner of container ships Seaspan's stock steamed upwards, riding the tide of the recovering container shipping industry.  While President Trump has brought us to the brink of a global trade war, so far the potential damage to the global shipping industry has been a smaller factor in investors minds than the general recovery of the industry after two very lean years caused by a supply glut.  Over the last two years, many container ships have been scrapped and few new build ships have been delivered, with the net effect of reducing oversupply and increasing charter prices.
Even if Trump's trade war rages out of control, it will hurt, but not be a total disaster for the container ship industry. This is because this particular trade war is shaping up to be one of the US vs. everybody else variety.  Other countries will continue to trade with each other, and global shipping may even pick up some trade from Mexico and Canada that used to go between those countries and the United States by land.
Nevertheless, a trade war that is looking increasingly likely and its net effect on shipping (not to mention the US economy) will be negative.  With SSW's stock up over 50% year to date, and the trade waters looking increasingly choppy, now seems like a good time to take some profits.
Covanta Holding Corp. (NYSE:CVA)
12/31/17 Price: $16.90.  Annual Dividend: $1.00(5.9%). Expected 2018 dividend: $1.00 (5.9%).  Low Target: $15.  High Target: $25. 
6/30/18 Price: $16.50 YTD dividend:  $0.50 (2.96%)  YTD Total Return: -10.3% 

The stock of US leader in the construction and operation of waste-to-energy plants Covanta rose in both May and June, most likely in reaction to the encouraging first quarter earnings report released on April 26th and which I covered at the start of May.
NRG Yield (NYSE: NYLD and NYLD/A)
12/31/17 Price: $18.90 / $18.85.  Annual Dividend: $1.133(6.0%). Expected 2018 dividend: $1.26(6.7%)  Low Target: $14.  High Target: $25. 
6/30/18 $17.20/$17.05 Price:  YTD dividend:  $0.607 (3.2%)  YTD Total Return: -6.1% 

Yieldco NRG Yield drifted lower in line with the broad market in May and June. The market seemed to agree with my assessment of the May 3rd first quarter results, which I described as "unsurprising" at the time.
Atlantica Yield, PLC (NASD:AY)
12/31/17 Price: $21.21.  Annual Dividend: $1.16(5.6%). Expected 2018 dividend: $1.39 (6.6%).  Low Target: $18.  High Target: $30. 
6/30/18 Price: $20.18 YTD dividend: $0.63 (2.97%)  YTD Total Return: -1.7% 

Atlantica Yield drifted down in May, but then more than recovered after reporting first quarter results on May 14th.  The company increased its quarterly dividend to $0.32 per share, and announced an 8% to 10% compound annual dividend growth target through 2022.  This target is similar to those for BEP and TERP.
The company expects to achieve the target dividend growth through a combination of strong current cash flow and capital increases.  Although it expects to use corporate debt for some acquisitions, it plans to keep its debt below 3 times equity.
Pattern Energy Group (NASD:PEGI)
12/31/17 Price: $21.49.  Annual Dividend: $1.688(7.9%). Expected 2018 dividend: $1.70(7.9%).  Low Target: $20.  High Target: $30. 
6/30/18 Price: $18.75 YTD dividend: $0.844 (3.93%)  YTD Total Return: -8.6% 

In May, I predicted that wind Yieldco Pattern Energy Group's first quarter earnings would disappoint the market because of low winds in the first quarter, leading to a potential buying opportunity.  Although winds were low in the first quarter, the results were not as bad as I (or the market) had been expecting, leading the stock to spike briefly rather than fall.  The substance of the first quarter report contained few surprises, with management re-affirming its guidance for 14% growth in cash available for distribution, but no plans to increase its dividend.  The company hopes to use the cash flow increases to improve its payout ratio, which was pushing up towards 100% in 2017, so I do not expect any dividend increases until at least the end of 2019.
Management also discussed its plans to rationalize its holdings with the possible sale of non-core assets such as its holdings in Chile.  Sure enough, the company announced the sale of its Chilean assets (mainly its 81MW stake in the 115 MW El Arrayán Wind project on May 24th.  Because Pattern has no other assets in that part of the world, the El Arrayán project was much more expensive to manage than its other wind farms. The company expects to eliminate more than $1.0 million of annual overhead related to managing the business in Chile.  The proceeds will be used to pay down debt and invest in higher yielding projects, most likely in Japan.

Terraform Power (NASD: TERP)
12/31/17 Price: $11.96.  Annual Dividend: $0. Expected 2018 dividend: $0.72 (6.0%)  Low Target: $10.  High Target: $16. 
6/30/18 Price: $11.70 YTD dividend: $0.38 (3.18%)  YTD Total Return: 1.1% 

Yieldco Terraform Power completed its acquisition of European Yieldco Saeta Yield, financed by an equity investment from its sponsor, Brookfield Asset Management (BAM) and affiliates, including Brookfield Renewable (BEP).  It was interesting to note that when Terraform announced that the acquisition would be funded through the previously-arranged investment by Brookfield on June 5th, TERP's stock barely budged.  A week later, Brookfield itself issued a press release titled "Brookfield Renewable Increases Ownership Stake in TerraForm Power" Terraform's stock jumped by $1.  Apparently the large investors with enough money to move TERP's stock spend a lot more time watching Brookfield's news feed than Terraforms'.  This points to one advantage that small investors can have over large ones: Since our investments are smaller, we can spend our time watching small stocks closely, allowing us to get an advantage over larger investors in the stocks we choos to follow.
Brookfield Renewable Partners, LP (NYSE:BEP)
12/31/17 Price: $34.91.  Annual Dividend: $1.872(5.4%). Expected 2018 dividend: $2.02(5.8%).  Low Target: $28.  High Target: $45. 
6/30/18 Price: $30.33 YTD dividend: $0.98 (2.81%)  YTD Total Return: -11.2%

Brookfield Renewable Partners was up in May but down in June for a mostly flat 2 months.  Although one press release proved to be significant for Terraform Power, there was little to move BEP's own stock.

Green Plains Partners, LP (NASD: GPP)
12/31/17 Price: $18.70.  Annual Dividend: $1.84(9.8%). Expected 2018 dividend: $1.90(10.2%).  Low Target: $13.  High Target: $27. 
6/30/18 Price: $17.15  YTD dividend: $0.945 (5.05%)  YTD Total Return: -3.3%

Ethanol MLP and Yieldco Green Plains Partners reported first quarter results on May 7th.  Ethanol volumes were down due to market conditions which led GPP's parent, GPRE to process less ethanol thought GPP's facilities.  This reduction in volume was partially offset by a small contractual payment from GPRE designed to partially make up for the lost revenue in periods of low volume.
Although GPP gave all its distributable cash flow to shareholders in the first quarter, it nevertheless increased its distribution for future quarters by half a cent to $0.475 per unit.  The partnership can likely afford this increase because results are often seasonally low in the first quarter, and rising gas prices will lead to higher volumes and improved profitability.  Further, GPP began operation an ethanol train terminal in Little Rock, AR as part of a partnership and is investing in further ethanol distribution facilities as part of this same partnership.
Although new investments, seasonal changes, and improved market conditions for ethanol should support the slightly increased dividend, I expect future dividend increases to be similarly modest for the next year or more, while the partnership works to reduce its payout ratio.  While the almost 11% current yield is quite attractive, investors should not be expecting much in the way of capital gains on top of that, especially given the Trump administration's efforts to undermine the Renewable Fuel Standard which I discussed in May.

InfraREIT, Inc. (NYSE: HIFR)
12/31/17 Price: $18.58.  Annual Dividend: $1.00(5.4%). Expected 2018 dividend: $1.00 (5.4%).  Low Target: $16.  High Target: $30. 
6/30/18 Price: $22.17 YTD dividend: $0.50 (2.69%)  YTD Total Return: 22.2% 

Electricity transmission REIT InfraREIT added somewhat to its gains in June.  Without any significant news, I think the move may simply be a flight to safety by income investors looking for stocks without significant international exposure.
Enviva Partners, LP. (NYSE:EVA)
12/31/17 Price: $27.65.  Annual Dividend: $2.46(8.9%). Expected 2018 dividend: $2.65 (9.6%).  Low Target: $25.  High Target: $40. 
6/30/18 Price: $29.10 YTD dividend: $1.245 (4.5%)  YTD Total Return: 9.9% 

Wood pellet Yieldco and Master Limited Partnership Enviva jumped strongly in May after giving some of those gains back in June.   The company announced that its Chesapeake wood pellet export terminal returned to full operation on June 28th after a fire in the first quarter.  The partnership expects that all the related costs of the fire will be recovered from insurance and that all its contractual obligations for deliveries can be met.
Final Thoughts
With four months of recovery after a dismal January and February, my portfolios (both model and real) are back in the black for the year.  But the Trump administration's trade blunders and efforts to undermine environmental protections and support for clean energy are increasing the risk for clean energy investors, and for the stock market as a whole.
Two months ago, I thought the timing was good to increase market exposure.  Now I feel the emphasis should be towards taking some gains and reducing overall risk.  In this model portfolio, Seaspan (SSW) is presenting a good opportunity to take gains for readers who bought early in the year.  I'm not doing much on the buy side right now, but, if I were, I'd be looking to Brookfield (BEP), Covanta (CVA) and Atlantica Yield (AY).
Disclosure: Long PEGI, NYLD/A, CVA, AY, SSW, SSW-PRG, TERP, BEP, EVA, HIFR, GPP.

DISCLAIMER: Past performance is not a guarantee or a reliable indicator of future results.  This article contains the current opinions of the author and such opinions are subject to change without notice.  This article has been distributed for informational purposes only. Forecasts, estimates, and certain information contained herein should not be considered as investment advice or a recommendation of any particular security, strategy or investment product.  Information contained herein has been obtained from sources believed to be reliable, but not guaranteed.