by Debra Fiakas, CFA
Published by the Climate Accountability Institute, the Carbon Majors Reportlays bare the truth about which companies are responsible for industrial greenhouse gas emissions.  One hundred fossil fuel producers are linked to 71% of global industrial greenhouse gases emitted since 1988.  Something like a line in the sand for climate scientists, 1988 is the year human-induced climate change was official recognized by the Intergovernmental Panel on Climate Change.
Fossil fuels in the form of coal, crude oil and gas are by far and large the culprits.  Rolling forward three decades later, we can observe in the charts below that fossil fuel production has actually increased since those panelists first locked arms to accept human responsibility for the changes underway on Planet Earth.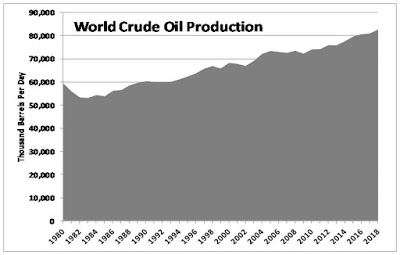 Despite irrefutable scientific argument, political will to address the climate issue has faltered.  Government officials have paid little more than lip service to regulatory changes that would drag polluters onto a cleaner but fair playing field.  Investment in renewable energy has been paltry in comparison to the continued tax breaks and subsidies that fossil fuel producers still receive.  Recent U.S. policy changes go so far as to support unprofitable coal producers, encourage new oil production in previously protected lands and waters, and facilitate cheap pipeline transportation for shale oil gas.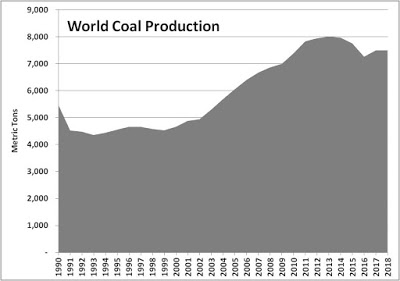 Since advocacy has not worked and our world has moved from a climate concern in 1988 to a full blown crisis in 2019, it is time for investors to take action with their capital.  It is no longer just a matter of considering potential erosion in profits due to reduced demand for coal, oil and gas.  It not even any more a matter of portfolio risk in the event that corporations are held liable for environmental harm from fossil fuel combustion.  It is time to recognize that fossil fuel producers are killing their customers.  This is not a viable business model and it deserves a 'short.'
The previous post, "Top Greenhouse Gas Emitters", listed the three companies and a fourth industry group in one country that are collectively responsible for 25% of total greenhouse gas emissions between 1988 and 2015.  All are largely controlled by governments and therefore are beyond the reach of investors. However, among the companies responsible for an additional 25% of greenhouse gas emissions are several with publicly traded stocks that are in the control of minority shareholders like you and me.
Interestingly, all but two of the stocks in the list below trade on the New York Stock Exchange and represent over $1.1 trillion in market capitalization.  That is a very large number that is probably dangled in front of any politician who even suggests curbing emissions.  What cannot be missed in the discussion is that these NYSE-listed companies are also responsible for 8.7% of those gases that keep melting glaciers, stirring up violent weather and foiling our air.  The consequences of those emissions are known to many, including every insurance actuary who raises premiums to cover respiratory illness costs, every community that has had to spend tax dollars on cleaning up after climate-related natural disasters, and every farmer who sees reduced crop production.  The consequences need to be appreciated by investors as well.
Cumulative 1988-2015 Scope 1-3 Greenhouse Gas Emissions (MtCO2e)
Cumulative 1988-2015 Scope 1-3 Global Industrial Greenhouse Gas, % Total
ExxonMobile Corp. (XOM:  NYSE)
17,785
2.0%
Coal India
16,842
1.9%
Petroleos Mexicanos (Pemex)
16,804
1.9%
Russia Coal
16,740
1.9%
Royal Dutch Shell (RDSA:  AS)
15,017
1.7%
China National Petroleum
14,042
1.6%
BP, Plc (BP:  NYSE)
13,791
1.5%
Chevron Corp. (CVX:  NYSE)
11,823
1.3%
Petroleos de Venezuela (PDVSA)
11,079
1.2%
Abu Dhabi National Oil
10,789
1.2%
Poland Coal
10,480
1.2%
Peabody Energy (BTU:  NYSE)
10,364
1.2%
Sonatrach SPA
8,997
1.0%
Kuwait Petroleum
8,961
1.0%
Total SA (TOT:  NYSE)
8,541
0.9%
BHP Group (BHP:  NYSE)
8,183
0.9%
ConocoPhillips (COP:  NYSE)
7,463
0.9%
Petroleo Brasilliero (Petrobras)
6,907
0.8%
Lukoil OAO (LKOH:  ME)
6,750
0.8%
Scope 1 relate to direct operational emissions, i.e. fuel combustion, company vehicles and fugitive emissions

Scope 2 relate to indirect emissions from the generation of purchased electricity, heat or steam

Scope 3 relate indirect emissions such as the extraction and production of oil, gas and coal
Neither the author of the Small Cap Strategist web log, Crystal Equity Research nor its affiliates have a beneficial interest in the companies mentioned herein.
This article was first published on the Small Cap Strategist weblog on 6/28/19 as "Fossil Fuel Industry: Killing the Customer".