by Tom Konrad, Ph.D., CFA
In the past, I've allowed readers to pay for early access to the list of the 10 stocks I will pick for the model portfolio the next year.  This year, early access to the top 10 list will be a perk for all my patrons on Patreon, who get a first peak at drafts of all my articles.  I posted a draft of this article on December 18th.
It's going to be hard to pick 10 stocks that I think are good values this year, but it's past time to start thinking about it.  I thought I'd share with you a bit of my process as I do.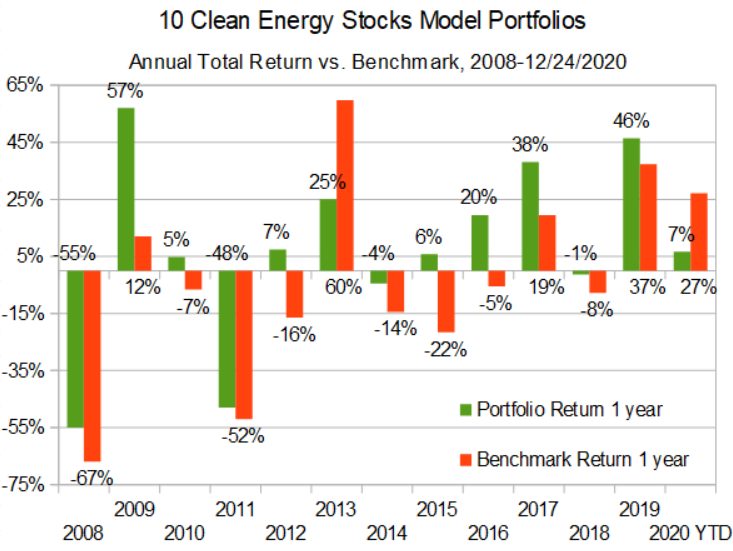 Methodology
I follow about 50 companies that I consider green (that is, the environment would be better off if these companies were to grow their businesses and worse off if they went out of business or shrank), they are profitable, and they pay a decent dividend.
When picking the top 10 list, I look for individual stocks that are obviously undervalued (rare this year), or, failing that, stocks that have exposure to some industry or theme that I think will do better than most investors expect over the next year or two (I don't need the industry to improve in the next year so much as investors' perceptions about the industry.)
If this does not give me 10 stocks, I just start sifting through what's left for stocks that have relatively high dividends and earnings, and seem likely to add some diversification to the portfolio so far, either because they are in different industries or have different geographical footprints.
Themes
I have yet to decide on themes, except that I think the US market is more overvalued than the rest of the world, so I'll probably include more foreign stocks than usual.  
Writing this note is part of the process I'm using to get me thinking about other themes and potential surprises for investors in the next year.
Since I continue to think the US market is priced for perfection, I'll be thinking about bear themes as well, and possibly buy puts on a stock or sector that may do worse than overconfident investors expect.
Do readers have any predictions about how we might be surprised in the next year?  I'd like to hear them.
DISCLAIMER: Past performance is not a guarantee or a reliable indicator of future results.  This article contains the current opinions of the author and such opinions are subject to change without notice.  This article has been distributed for informational purposes only. Forecasts, estimates, and certain information contained herein should not be considered as investment advice or a recommendation of any particular security, strategy or investment product.  Information contained herein has been obtained from sources believed to be reliable, but not guaranteed.