This week MagneGas (MNGA:  NASDAQ) announced new work completed toward plans to enter the commercial pork sector with a proprietary manure processing and disposal solution.  Management held a meeting with the North Carolina Department of Environmental Quality and the U.S. Army Corps of Engineers to discuss MagneGas technology to treat agriculture waste and the state's required environmental permit protocols.  MagneGas aims to sell to pig farmers equipment based on its innovations.
The company wants to help pig farmers address environmental problems cause by manure accumulation with its proprietary waste sterilization process.  Handling pig waste using conventional methods can be costly, but failure to comply with environmental regulations can also carry heavy penalties.  North Carolina is host to over 2,300 commercial pig operations which produce copious amounts of manure that can leach into soil and ground water.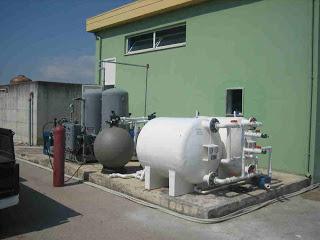 MagnaGas' patented 'Plasma-Arc Technology' can be applied to liquid waste to sterilize bacteria and pathogens.  Plasma gasification converts organic matter into synthetic gas and a slag by-product using a plasma torch powered by an electric arc.  The electric arc operates much like arc-welding machines where an electric current is struck between two electrodes.  When used on a waste stream, the plasma arc melts the inorganic portion of the waste and destroys the organic part. The result is a gas the sterilized liquids.
In early 2018, the company was awarded a grant valued at $432,000 to fund a demonstration plant at a dairy in Florida.  MagneGas will present results from the demonstration at a conference held by the Soil and Water Conservation Society later in 2018.  The group is dedicated to natural resource conservation.
The MagneGas solution is very different than combustion, in which wastes of some sort are burned with oxygen to release waste gases.  Plasma arc is more environmentally friendly.  It has been certified as meeting Department of Environmental Protection requirements for exhaust emissions.  Plasma arc can also be used to treat waste with very little pre-treatment.  This is a plus for hog farmers that need to keep operating costs to a minimum to preserve profit margins.
Pig farmers are also sensitive to capital costs.  Management believes the sales pitch for the MagneGas solution is likely to be more successful with assurances that installation can be accomplished easily and with minimal expense.  Thus the company has sought to work closely with the state of North Carolina and the EPA on permitting requirements in order to take the kinks out of the piggie's tail, so to speak.  The permitting process is now expected to require eight to twelve months.
Entrance to the agriculture sector is going to requirement patience.  In the meantime, MagneGas has commercialized sale of gases from its process for use as a more efficient replacement for acetylene from fossil fuel.  MagneGas has rapidly gained market share with construction and industrial customers.
In the quarter ending June 2018, the company recorded $2.9 million in total sales, representing more than a tripling in revenue compared to the same period in the previous year.  Unfortunately, a significant increase in selling, general and administrative spending cut into the added profits.  The operating loss in the quarter increased to $3.4 million from $3.1 million in the year-ago period.  Thus MagneGas is still using cash in its bank account to support operations.
MagneGas ended the June 2018 quarter with $1.1 million in cash on the balance sheet.  Just before the quarter end the company had raised $556,000 in new capital through the a convertible preferred stock offering.  The capital raise helped improve working capital resources to $1.2 million.  This compares to negative working capital just six months earlier.
Income and balances were impacted by the acquisition of a distributor of the company's distribution, Trico Welding Supplies, earlier in 2018.  Even after elimination of intercompany sales, the deal is boosting reported sales and enhancing profit margins.  The balance sheet now reflects Trico's inventory and other balance sheet values that increased assets and liabilities.
Traders appear to be taking their time in evaluating the changes at MagneGas.  The shares continue to trade well below $1.00, providing a compelling entry point for investors with the patience to execute on management's strategies.
Debra Fiakas is the Managing Director of Crystal Equity Research, an alternative research resource on small capitalization companies in selected industries. Neither the author of the Small Cap Strategist web log, Crystal Equity Research nor its affiliates have a beneficial interest in the companies mentioned herein.