by Jim Lane
When the world's leaders for sustainable aviation fuels have a general meeting the week before the COP24 global climate sessions (this year in Poland), you can bet that the focus will be breaking the "You Can Have Two out of Three Conundrum" of aviation fuels. Which is to say: affordable, available at scale, and sustainable, pick any two of the three.
Fossil fuels are (usually) affordable and always available at scale. Sustainable jet fuels that are available at scale have generally not been affordable to date, and affordable sustainable fuels have been mostly explored at bench scale, so far.
San Francisco's buying more renewable fuel
Case in point, the exciting and welcome news that Shell, World Energy, SkyNRG, KLM, SAS and Finnair have joined forces to reduce carbon emissions at San Francisco Airport.
Turns out that Shell Aviation and SkyNRG have commenced the supply of sustainable aviation fuel (SAF) to international airlines KLM, SAS and Finnair at San Francisco Airport (SFO). The fuel is produced by World Energy, currently the only at0scale SAF refinery worldwide, at the Paramount refinery in Los Angeles, and is made from used cooking oil, resulting in a fuel that has significantly lower lifecycle carbon emissions than conventional jet fuel. In general, sustainable aviation fuel has a reduction potential of 60-80%, compared to conventional jet fuel.
And, isn't this the same refinery that provided diesel and jet fuel blends for which the Navy paid $2.07 a gallon in late 2015? (And, though that was a 10 percent biofuels blend, the same refinery won a competitive bid in 2017 for a 30 percent biofuels blend).
So what's not to like? In the context of aviation demand, running at billions of gallons worldwide and every drop of that airlines would like to switch-over to sustainable aviation fuels — there's the problem of Peak FOG.
No that's not something you see in San Francisco around November; it refers to a global shortage of waste Fats, Oils and Greases. Turns out the world runs out of affordable, sustainable liquid alternatives to fossil fuels faster than it runs out of fossils.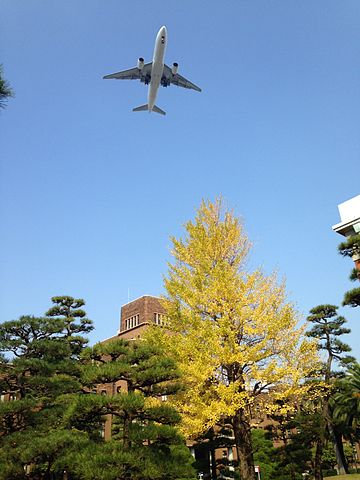 Year of the Tree
Which is why the talk of CAAFI was, in a nutshell, all about wood — not virgin timber, mind you, or even the choice parts of the timber supply chain that become 2x4s or round logs. No, there's no Frame-House vs Fuel in here. It's the needles, tops, branches that are the waste products of our usual applications for wood. Plus, thinnings as we take dead trees out of forests to limit fire risk.
A breakthrough in woody biomass from federal lands?
Among the more juicy items heard on the floor at CAAFI, one that regards the unfortunately-named 40 CFR 80.1401, Renewable Fuels Standard and Regulation of Fuels and Fuel Additives.
The 2,000 page FY2018 Omnibus Spending Bill signed by President Trump on March 23, 2018, in Title IV General Provisions, on page 866, states; "That the Federal policy relating to forest bioenergy- must be consistent across all Federal departments and agencies, shall recognize the full benefits of the use of forest biomass for responsible forest management and recognizes biomass as a renewable energy source. The only limitations is that, the use of forest biomass for energy production does not cause conversion of forests to non forest use".
CJ Evans (Managing Director, American Diversified Energy Consulting Services) added, "Some background on this language. I first tried to advance legislation in 2007 (through Rep. Adam Putnam's office) to make the definitions of biomass consistent across all federal laws. There were almost a dozen different definitions.  I hit a buzz saw of opposition from interest groups and abandoned the effort. Mark Riedy also got involved at one point and several groups wrote white papers in 2014 and 2015, without making any progress.
"I was working on other issues during the last 5 months of 2017 (restoration of funding for Title 17 and EERE at DOE and removal of a provision in ag appropriations that would have eliminated USDA staff working on renewable energy programs) but had contact with the offices that could fix the problem with not being able to use diseased trees from national forests and have the wood quality as renewable biomass. So I wrote a short bullet list with some suggested language and gave it to a couple of these offices … and it was included in the Omnibus Spending Bill. Certainly one of easiest legislative victories I've ever undertaken."
The capacity build out
The numbers are getting impressive amongst those who can produce heavy fuels — diesel and jet fuels, specifically.
Consider these. Neste (NEF.F, NESTE.HE, NTOIF, NTOIY), 910 million gallons of existing capacity and a capacity-adding project underway. World Energy, 60 million gallons of existing capacity, with a project underway to expand to 300 million gallons. Diamond Green Diesel (a joint venture between Valero (VLO) and Darling Ingredients (DAR)) with 170 million gallons in place and expanding capacity towards a goal of 300 million gallons. REG (REGI), 70 million gallons in place in Louisiana, and a project underway in partnership with Phillips 66 to build new capacity in Washington state.
And that's not taking into account companies such as Red Rock Biofuels (first commercial under construction), Fulcrum Bioenergy (first commercial under construction), SG Preston (first commercial under development), Ryze Renewables (first commercial under development), and EnerSysNet (pilot under development), among many more. Not to mention the companies pursuing alcohol-to-jet, including LanzaTech, Gevo and Vertimass.
The feedstocks
Think residues. That's where the sustainability has, so far, met the economics. There have been three basic thrusts, to date. First, the afore-mentioned foray into waste FOG. There is municipal solid waste, which Fulcrum is using. There is waste wood, which Red Rock has been using. And, there has been waste land — targeting lands that have fallen out of traditional agricultural production because of crop disease or changing economics with traditional crops — Agrisoma and the SPARC consortium in Florida are targeting land that in years gone by would have been home to citrus or cattle in South Florida.
CORSIA fuels, baby
Perhaps the most welcome news of the floor is at last a single word that we can use to replace all the monikers and acronyms for sustainable aviation furls. SPK, SAF, CARB fuel, RJ just to name three of many.
Now we know we can simply call them CORSIA fuels. For the CORSIA Global Carbon Offsetting Scheme that the airlines have established. Which is not a carbon tax or emissions trading, and it applies only to international flights (which represent about 67 percent of commercial airlines fuel use).
Now even the CORSIA group has come up with a three-letter acronym of their own, CEF, CORSIA-eligible fuel. We'll ignore that. CORSIA is fine.
The leading expert we know is Nancy Young of Airlines 4 America and here are your 10 takeaways:
single global market-based standard
time frame 2021-35
CORSIA is in lieu of other measures imposed
2021-26 voluntary phase in for countries, 2027 mandatory other then exempt countries or routes eg LDCs
76 countries representing 76% of international in the opt-in phases, in 2027 goes up about 90 percent
demonstration of compliance every 3 years begins Jan 1 2019
monitoring is country by country reporting to ICAO
alt fuel not included in 2019-20, rather in 2021 when offsetting begins
emissions savings from purchase of CORSIA eligible fuels reduces individual operators obligations
when we fly country to country, this is the single mechanism
On concerns that airlines will simply buy offsets and ignore fuels. Young predicts: "Watch what happens to the market over 15-20 years as countries move to meet Paris and CORSIA obligations, it will be a tight offset market."
Mabus: stop buying a way out of a problem and starting buying into a solution
Former Navy Secretary Ray Mabus took the stage and said:
"When I was the nominee for Secretary of the Navy and waiting for my confirmation, what kept jumping out at me in the briefings I received was fuel, how it could be used as a weapon against us. We set a policy goal that no later than 2020 half of fuel would come from non-fossil. When i did that frankly the technology and the economics weren't there, but we believed that we could save the navy and taxpayers money by doing i, and i saw energy as a national security argument and alternative fuels as a key part of that energy security.
"I got a little push back on that particularly from Congress where one legislator said "you're the secretary of the navy not energy. I said that the navy has always led in energy transformation, sail to coal, coal to oil, oil to nuclear, and every time we did that there were all these naysayers. They would say, things like 'why are you giving up all these coaling stations for this unproven oil technology,' and every time single they were wrong and they are completely wrong about alternative energy.
"We moved aggressively. We tested and certified every type of ship and aircraft. We flew on 100% biofuels. And Fulcrum and Red Rock are here today and doing well, and we made an investment in them. But we got the benefit. 77 mgs in 2015 90/10 blend and in 2017 a 60 million gallons purchase on a 70/30 blend. In each case, 25 cents cheaper to the navy.
"Now, in 2017 I wasn't there any more pushing for this. Now, it's the new normal. Now, the navy and so many others — including airlines like United, KLM, Lufthansa and Alaska are moving aggressively, and ports and airports like San Francisco, Singapore, Oslo, Brisbane and Seattle. Alternative energy in all its forms did one major thing for the Navy, it made the navy better at what they do, better warfighters. This is not a group of ardent environmentalist, they run in big ships and have a lot of vehicles. They have become leaders because of the proof that it makes them better at doing the job that the United States needs them to do. Ultimately it was national security, not the 60-90% reduction in greenhouse gas emissions that was important.
"But, the US government put out a national climate assessment the day after Thanksgiving. Every time the assessment comes out , the warnings become more severe, the consequences more dire. The lower states have warmed 1.5 degrees this century, 1.2 degrees in last few decades and will get 3-12 degrees warmer by end of the century. The effects of this are catastrophic. Already we see the effects on places and people, we have the the first internally displaced people from climate change in some of our coastal islands.
"Big companies are now seeing the benefits of direct action. But we have got to get beyond buying carbon offsets. We have to stop buying our way out of a problem and starting buying into a solution. Two immediate ideas. Corporate jet fuels costs usually 3-4X larger than big commercial airlines, Switching to alternatives would send a strong signal that corporations are paying attention. And, favor airlines as business travel partners by screening for alternative fuels. Using that power with business travel to make sure we are moving in the right direction.
"We all have to change how we operate, just as we did at the Navy. In the military if you keep doing the same things you become predictable, and predictable is defeatable. If you don't change and make the moves you have to make, and think differently about how you procure fuel, your corporation will go away."
"The RFS debate has been not productive and about locking in first-generation biofuels and failing the industry."
In his opening remarks, Steve Csonka, executive director of CAAFI said "Aviation is at a crossroads – a vision for expansion but a carbon intensity that the public is turning sharply against. if done right, biofuels can be part of the solution, but not done right it is the opposite.  LanzaTech is clearing industrial emissions, Agrisoma is planting cover crops.. Fulcrum is reducing landfill waste. The RFS debate has been not productive and about locking in first-generation biofuels and failing the industry."
"The problem is the low cost of offsets"
SG Preston CEO Randy LeTang veered away from feedstocks as the primary challenge. "The problem is not feedstock, but support from the end consumer, when you have high cost fuel vs low cost credits. How can we drive down the cost to provide fuels without he support of airlines offtakers? We see lack of interest and waning interest from offtakers given the optionality of low cost offsets vs high cost fuels."
#1 opportunity: "clean up this biointermediates rule"
For US policy, CAAFI brought in Advanced Biofuels Association president Mike McAdams, who noted that the 2019 RVO was as expected, and of more interest was the Brady tax bill which offers a 7 years tax credit starting at $1.19 and sunsets after 7 years. He noted that the i#1 opportunity was to "clean up this biointermediates rule",  that it is essential in scaling advanced biofuels that bio-intermediates be allowable and with a mass balance rather than carbon-14 analysis system. He noted that "consumers are increasingly aware of aviation carbon impact and want to participate in real change; now is the time to drive policies to enable alternative jet fuel commercialization. But he warned that efforts could be undercut by carryover RINs. He commented that 2.8B carryover RINS issued in 2018; up from 2017's 2.25 billion, and in the D6 RIN pool that had taken the RIN value from 80 cents to 6 cents.
"LCFS is the right tool to address the toughest GHG sector, heavy transport"
For California policy, CAAFI brought in Graham Noyes, who noted that the overall California Low Carbon Fuel Standard drives down the carbon intensity of California fuels by 1.25 percent per year through 2030, with obligated parties having the option to buy credits or blend low carbon fuels. Jet fuels are coming into the standard, though on an opt-in basis at first.
The value of California credits. Noyes noted that a technology with a carbon intensity of 40 could earn $1.19 per gallon and those with a carbon intensity of 10 could earn $1.83 in the trading values today.  He said that the LCFS is the right tool to address the toughest GHG sector, heavy transportation, because it materially overvalues alternatives compared to cap and trade of emissions and offsets.
He noted that Low Carbon Standards were very much in an expansion mode. Washington state in 2019 could be next, there was a coalition of interests in the Midwest looking at a regional LCFS, and a RGGI group for the Northwestern states. Noyes said that the essentials for
2019 were continued vocal leadership from A4A and CAAFI, and sustained support from the agencies.
"We all see a significant shift, that customers are demanding low carbon solutions and by and large the majors don't make them."
World Energy COO Bryan Sherbacow commented, "I was pleasantly surprised after 2008 with the Obama Administration coming in to find that the military were the new hippies in embracing sustainability. It seemed clear and obvious this was going to be the successful path forward and that Secretary Mabus was setting out the demand signal. Our timing worked well and we were awarded the first commercial fuel and now on our 3rd Navy contract and its one of our more important pieces of business for us. But the US government eliminated the USDA component and hopefully we can restore that, because we probably won't be competitive in the fourth solicitation.
Meanwhile, people being displaced and fires are breaking out and it is important what we do. We all see a significant shift, that customers are demanding low carbon solutions and by and large the majors don't make them.
"At World Energy we are partnering with incumbents in the oil & gas space and we become part of their distribution where they are compelled by policy, We don't have to replicate the infrastructure – just work through them. Our California asset was back in 2013 a small asphalt refinery and we formed a JV to convert to renewables with initial deliveries in 2016 and first deliveries to UAL and delivering into LAX since then. We started at 3,000 barrels per day and are expanding to 20000 barrels a day. With our process we produce 50 percent jet, but about 10 percent very competitively on a cost basis. So, we're making 3-4 million gallons, and in the future we would ideally make around 30-40 million gallons.
The problems are that the incentives significantly favor diesel over jet, and that we have to get past fats oils and greases and get to novel feedstocks. The incentives can be fixed, right now if a customer shows up in the California market we can win those contracts every time, unless we have just done a poor job of educating the customer. Now, in January, jet fuel will be included in that LCFS program and that will make a big change.
On technology, the tricky part of that most processes that involve gasification of woody biomass, which is available and affordable, give you a lot of naphtha and not enough diesel, so the economics don't work nearly as well as they could, because naphtha generally fits into the lower-value gasoline pool.
Get beyond private wood
Red Rock Biofuels CEO Terry Kulesa noted, "the gasoline pool is growing and there's a need for 30 percent more diesel going forward. We use the same process, different suppliers compared to Fulcrum BioEnergy, we gasify biomass, use FT to get to a biocrude, then hydroprocessing to produce a finished fuel. We're making 15.1 million gallons per year of heavy transport fuels. The tricky part? In terms of technology, it's really the gasification. The tricky part of the economics is that we have to buy private wood, we can't qualify for federal renewable fuel credits when we use wood sourced from federal lands." Even though we all could use getting some of that waste wood off of federal land.
"Completion? We'll be completed in December and we expect 6-12 months of ramp up. Plants never run exactly as designed, that's why we have great operators."
"We need alternatives to landfilling fossil plastics that cannot be recycled or reused"
Neste's US head, Neville Fernandes spoke about the growth at the world leader by production volume. "At Neste, we're at 260000 barrels per day [in petroleum capacity] or 910 million gallons per year in Poorvoo, Rotterdam and Singapore, we have $1.4 billion in operating profit. In a few weeks we'll make the decision on adding 340 mgy in Singapore which will take out total footprint up to 1.3 billion gallons.
Our pathway involved moving to renewable diesel in 2007, renewable jet in 2015, Ultra low Sulphur marine in 2018 and renewable propane and chemicals are the new initiatives. In the future, we see ourselves building a GreenHub to convert waste plastics to fuels. Last year, 80 percent of our feedstock came from waste and residues. In the short term it is about waste FOG; in the longer term we see microbial oil, algae and plastic liquefaction as important feedstocks. And we need alternatives to landfilling fossil plastics that cannot be recycled or reused.
"100% biofuels now ready for ASTM balloting"
Chuck Red at ARA took the stage to focus on 100% biofuels flights and supplies. "We're now ready for the ASTM ballot. And we expect to have out first commercial unit at 3600 barrel per day in the Western US, with ARA participating as an equity partner and using a USDA 9003 loan guarantee.
"It's jet, and ground operations, too"
FedEx's (FDX) Joel Murdoch noted that the demand is not only for jet fuel but for diesel for ground operations, for many.
"FedEx's goal is 30 percent alternative fuel use for aviation by 2030.  In petroleum we contract for 1-2 years but we contract for 5-10 years with alternatives, with exit mechanisms, and we have a 5% maximum per location until the security of supply established."
The challenges? More than just fuel price and composition, Murdoch advises. "There are logistics as well as cost. Truck, rail, pipelines — how will it be transported? There's the airport fuel consortiums to consider, will the blends be on or off the airport. There's the use of existing tankage, the addition of new tanks. And more."
Replacing aromatics
Representing the US Department of Energy was BETO director Jonathan Male, who noted that the 26 billion gallon jet fuel is expected to double in size and would require nearly a billion tons of biomass. He noted that most blends are restricted to date to 50 percent because of the performance of aromatics. "But, are there renewable molecules and help us with particulate matter and give us what aromatics do?" He suggested that R&D should and would examine replacing the aromatics with iso-alkanes and cycloalkanes.
Pursuing economics through process optimization and co-products
Overall, Male's message was "Bring Down Cost' and he noted that when it comes to feedstocks, and processing, yield was the goal and "every gram counts".  To reach the economics needed, he said, you have to have unit operations s that work together in an optimal way — you don't have a process until you join units together," and by inference, you don't have a sustainable, affordable, defensible process until the units work together in an optimal way.
NIFA's National Program Leader in the Division of Sustainable Bioenergy Bill Goldner chimed in decisively on this point, The co-products are really important to the economics."
Jim Lane is editor and publisher  of Biofuels Digest where this article was originally published. Biofuels Digest is the most widely read  Biofuels daily read by 14,000+ organizations. Subscribe here.