by Debra Fiakas, CFA
Greater energy density or the amount of energy stored is the mission of every battery developer.  The higher the energy density, the longer a battery can serve its owner.  Scientists have been adjusting circulating chemistry, cloaking electrodes in exotic metals, and otherwise tinkering with conventional battery designs.  Debate even spills over into the raw material supply chain as it has recently over the use of expensive and sometimes difficult to source cobalt as an additive to lithium ion battery designs.   Others are trying to tame silicon for use in battery anodes.
Perhaps the most daring developers have abandoned conventional battery design altogether.  New solid state battery technology relies on solid metal electrodes and even solid electrolyte. The chemistry is in general the same as when liquid electrolyte interacts with the electrodes.  However, the new design avoids leakage and corrosion at the electrodes, reducing the risk of fire.  There is also potential for a smaller form factor that means less weight than conventional batteries.  Recent advances also suggest solid state batteries can overcome energy density limitations.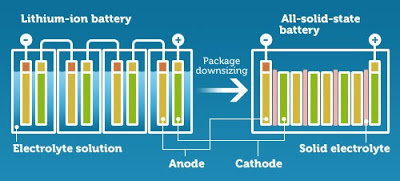 Why do we not hear more about solid state batteries? Or find them in our many electronic devices?  There are still issues to resolve such as which materials are the most efficient and which production techniques yield the lowest cost end-product. Those solid state batteries that have made it to market have been limited to small cells that can compete with established and affordable battery technologies.
Besides resolving the issues of affordability and scale, solid state batteries also have technological challenges.  Solid state batteries are much safer, but there is the matter of dendrites, a build-up of lithium metal crystal in the anodes that form as the battery charges and discharges.  Dendrite build-up reduces the amount of solid electrolyte capacity and thus the stored charge.  Some developers have turned to ceramic 'barrier' for solid electrolytes that are lithium-metal proofed and prevent dendrite formation.
With the dendrite problem solved, solid state batteries are expected to offer consumers some enticing performance advantages:  faster charging, higher energy density, longer life cycle and greater safety.  When can consumers expect to get hold of solid state batteries?
The first commercially available solid state batteries are a particular type called thin film batteries.  These nano-sized batteries are composed of layered materials that function as electrodes and electrolyte.  Indeed, thin film solid state batteries resemble in structure conventional rechargeable batteries except they are very thin and flexible.  Besides lighter weight and small size, thin film batteries offer higher energy density for smaller electronic devices such as pacemakers, wireless sensors, smart cards, and radio frequency identification tags.
Front Edge Technology (FET) recently announced an agreement with STMicroelectronics (STM:  NYSE) to bring an ultra-thin rechargeable battery  to market.  Privately-held FET says its NanoEnergy batteries are only 200 microns thick and promise a long cycle life with more than 1,000 cycles at 50% discharge. The partners are hoping to capture a larger part of the thin film battery market that was measured by the industry research firm, iMarc, at $372 million in value in 2018.
There are other markets that are hungry for better batteries.  Privately-held Fisker, Inc. expects to reach the market with its electric car battery by 2022, but Toyota Motor (TM:  NYSE) believes it's partnership with Panasonic Corp. (6752.T) will bring a solid state car battery to market as early as 2020. Volkswagen Group and BMW Group have been working with QuantumScapeand SolidPower Battery, respectively, but not one of the players has committed to launch dates.
Do not expect solid state batteries for utility-scale energy storage any time soon either.  So far none of the selected developers in the list below has set its sights on solar or wind power customers.  That does not mean those applications will not see a solid state battery come their way.  CleanTech Group estimates investors have committed over $1.7 billion to solid state battery development over the last five years.  Still customers with large scale requirements have yet to see all the fruits of this investment.
More capital may be needed  –  and that may be a good thing for investors who want a stake in this latest battery technology.  The list below provides the names of a few companies to watch for future opportunities.  It is worth noting that several of the privately-held companies have attracted the attention of some significant venture and strategic players in computing and automotive industries, providing strong endorsement of their technologies.  Notably several those that have received strategic investment benefit from a partner that can kick open doors to commercial markets.  Many of these strategic investors are already public companies, offering an early ticket to the solid state battery competition.
| | | | |
| --- | --- | --- | --- |
| Company | SYMB | Capital Raised | Partners / Investors |
| 24M Technologies, Inc. | Pvt | $50M | Charles River, North Bridge |
| Blue Solutions (was Bathium) | Pvt | na | Bollore Group |
| BrightVolt, Inc. (was Solicore) | Pvt | $87.8M | New Science Ventures |
| BYD Company | 1211.HK | $450M | Toyota Motor |
| Cont. Amerex Tech. Co. (CATL) | 300750.SZ | $9.3B | Toyota Motor |
| Cymbet Corporation | Pvt | $80.7M | Perseus Private Equity Fund |
| Enovate Motors | Pvt | $298M | na |
| FDK Corporation | 6955.T | $292M | Fujitsu Ltd. |
| Fisker, Inc. | Pvt | $1.0B | Caterpillar Venture Capital |
| Front Edge Technology | Pvt | $2.7M | STMicroelectronics |
| Hitachi Zosen Corporation | 7004.T | na | na |
| Ilika, Plc. | IKA.L | $15M | Diverso |
| Ionic Materials | Pvt. | $65M | Renault, Nissan, Mitsubishi |
| Jiawei Long Power | Pvt. | na | na |
| Johnson Battery Technologies | Pvt. | na | Alcad, Saft |
| NGK Insulators Ltd. | 5333.T | na | NGT Ceramics |
| Ohara, Inc. | 5218.T | na | Polyplus Batteries |
| Planar Energy | Pvt | $50M | Battelle Ventures, LP |
| Polyplus Battery Company | Pvt | na | Schlumberger, SK Innovations |
| Prieto Battery | Pvt | $3.8M | Intel |
| Quantum Scape | Pvt | $100M | Volkswagen Group |
| Sakti3 (Dyson Group) | Pvt | $50.3M | Khosla Ventures |
| SolidEnergy Systems | Pvt | $71.4M | Vertex Ventures |
| Solid Power Battery | Pvt | $20M | Ford Motor, A123 Systems |
| | | | |
Neither the author of the Small Cap Strategist web log, Crystal Equity Research nor its affiliates have a beneficial interest in the companies mentioned herein.
This article was first published on the Small Cap Strategist weblog on 6/14/19 as "The Solid State Of Batteries".