By Tom Konrad, Ph.D. CFA
Here are a couple earnings notes I shared last week with my Patreon followers.
Eneti, Inc. (NETI) – formerly Scorpio Bulkers (SALT)
Eneti completed its name and ticker change on February 8th. New ticker is NETI (formerly Scorpio Bulkers (SALT), which I recently wrote about here.
Highlights from February 2nd earnings report:
37 of the 47 vessels owned at the 3rd quarter have been sold or have completed sale agreements.

Net asset value is $23.94/share. Since most assets are cash or vessels held for sale, this number is basically accurate.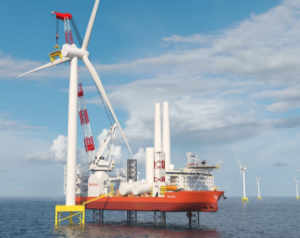 The stock is still a good buy at the current $20-ish per share, since it's trading below asset value. As the market starts to value this stock based on its new offshore wind turbine installation model, I expect it to start trading at a significant multiple of book value. I will be surprised if it ends 2021 under $30.
Brookfield Renewable Secondary Offering & Earnings
Brookfield Renewable Partners (BEP) and Brookfield Renewable Corp. (BEPC) announced a secondary offering of BEPC shares, as I predicted last month. What I did not predict was that the sale was by the company's parent, Brookfield Asset Management (BAM) so this sale will lower BAM's stake in the company rather than raising cash for Brookfield Renewable.
It has already had the predicted effect of lowering the BEPC/BEP price premium. When I added BEP to the 10 Clean Energy Stocks list on December 31st, BEPC shares were trading at a 35% premium to BEP. Since then BEP is up 9.8% while BEPC is down 9.1%. The premium has fallen to 12%.
In the short term, I expect the premium to start increasing again in a week or two, although I doubt it will ever get back above 30%. After it recovers, we can expect more secondary stock offerings, which will drive it back down. In the longer term (after a year or so) I would expect the premium to stabilize in the 10-15% range.
If the premium falls to 5% or less because of the secondary offering, it will probably be worth selling BEP to buy BEPC, at least for shareholders with relatively small unrealized capital gains.
Brookfield Renewable also announced fourth quarter earnings last week. I'd sum it up as "Steady as she goes." The company increased its quarterly dividend by 5% to $0.30375, at the low end of its 5% to 9% target annual increase.
Disclosure: Long NETI, BEP, BEPC, short BEPC calls
DISCLAIMER: Past performance is not a guarantee or a reliable indicator of future results. This article contains the current opinions of the author and such opinions are subject to change without notice. This article has been distributed for informational purposes only. Forecasts, estimates, and certain information contained herein should not be considered as investment advice or a recommendation of any particular security, strategy or investment product. Information contained herein has been obtained from sources believed to be reliable, but not guaranteed.