By Tom Konrad, Ph.D., CFA
With its purchase of Seajacks, Eneti (NYSE:NETI) has become the world's largest owner of offshore wind installation vessels.  The two articles were shared with my followers on Patreon as the news came out.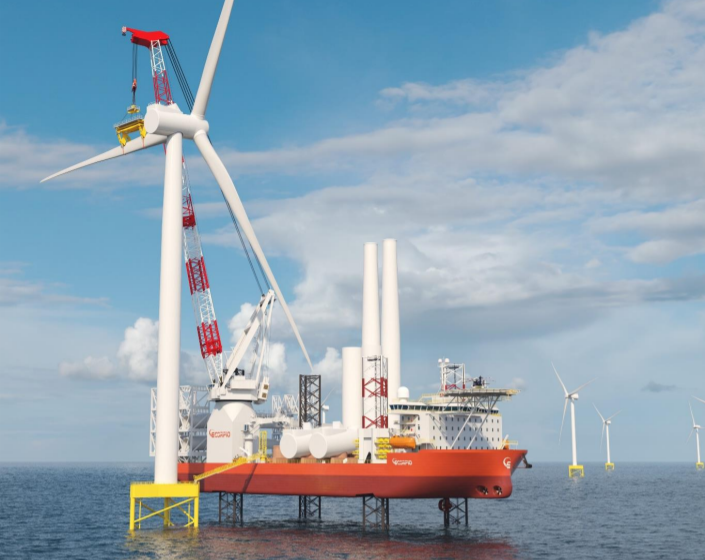 Valuing the Eneti/Seajacks Combination (First published August 5th)
Eneti (NETI) just announced it is buying offshore wind turbine installation firm Seajacks.  The purchase will be with a combination of shares, cash, and assumed debt: 8.13 million shares, $299 million of assumed net debt, $74 million of newly-issued redeemable notes, and $12 million of cash.  Current Eneti shareholders will own 58% of the combined firm.
After the transaction, Eneti will have 19.36 million (common and preferred) shares outstanding, and about $416 million in debt.  Seajacks is expected to produce approximately $125 million of EBITDA in 2022.   
An Enterprise Value to EBITDA ratio (EV/EBITDA) below 10 is generally considered attractive.  At an EV/ EBITDA ratio of 8, the combined firm would be worth $1 billion, or $30/share, so the attention and revenue this transaction brings should be very good for the share price.  
The attention is particularly important… Eneti has been languishing recently as investors look elsewhere, unwilling to wait for revenue to begin after the expected delivery of its first Wind Turbine Installation Vessel (WTIV) in 2024.  Now they don't have to.  The increased market capitalization from the additional shares should also help the combined firm attract new shareholders and analyst attention.
NETI remains my largest shareholding.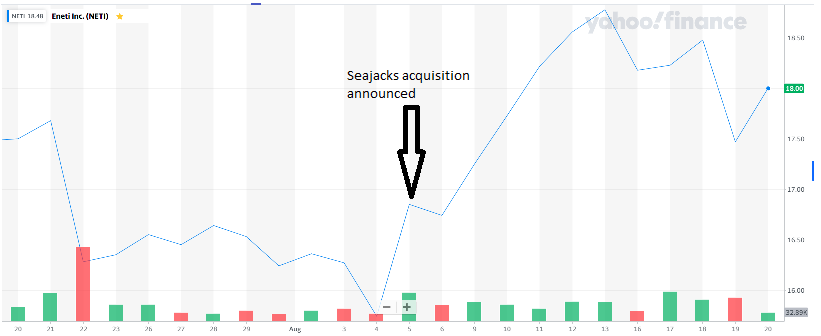 Eneti Earnings / Seajacks (first published Aug 18th)
Eneti (NETI) came out with second quarter earnings yesterday.  They made more than expected selling the last of their dry bulk fleet, but most of the discussion was about the future, and the new combination with leading wind turbine installation company Seajacks.
Seajacks is the early leader of wind turbine installation, but had been starved for new investment from its former parent companies for the last 4-5 years, so the ability to raise money through Eneti's stock market listing makes the deal makes sense for Seajacks as well as Eneti.  (I discussed the deal from Eneti's perspective here.
Eneti dropped its quarterly dividend from 5 cents to one cent without explanation.  Readers should not be alarmed about this, I think that now that Eneti is starting on a new chapter as an operating wind turbine installation company, it wants to set its dividend at a normal level.
In this context, "normal" means at a fraction of quarterly earnings, so that there is room to reinvest most of its earnings to fund growth and leave room for future dividend increases.
At this lower dividend level, Eneti no longer qualifies as an income stock, so I will stop purchasing shares for my Green Global Equity Income Portfolio strategy.  However, I plan to hold on to most of my current (very large) position until it gets close to what I consider fair value $30+ a share.  I think a few quarters as the listed global wind turbine installation leader should attract new investors and make that happen.
Take The Name, Too!
I thought Eneti missed a great PR opportunity when it adopted its current name to reflect the shift from its old business of dry bulk transport.   According to Wikipedia, the Eneti were three ancient peoples who lived in lands bordering the Adriatic Sea and the Black Sea.  While they were probably seafaring peoples, there is no reason for modern investors to associate the name with offshore wind.
Meanwhile, Seajacks has a great name: short, memorable, and descriptive of what the company does.  Eneti management would do itself and current shareholders a favor by taking the leading offshore wind installation name now that it is the leading owner of offshore wind installation vessels.
DISCLOSURE: Long NETI.
DISCLAIMER: Past performance is not a guarantee or a reliable indicator of future results.  This article contains the current opinions of the author and such opinions are subject to change without notice.  This article has been distributed for informational purposes only. Forecasts, estimates, and certain information contained herein should not be considered as investment advice or a recommendation of any particular security, strategy or investment product.  Information contained herein has been obtained from sources believed to be reliable, but not guaranteed.