By Tom Konrad, Ph.D., CFA
Second quarter earnings season is in full swing.  Below are a couple updates and the monthly performance chart that I recently shared with my Patreon supporters.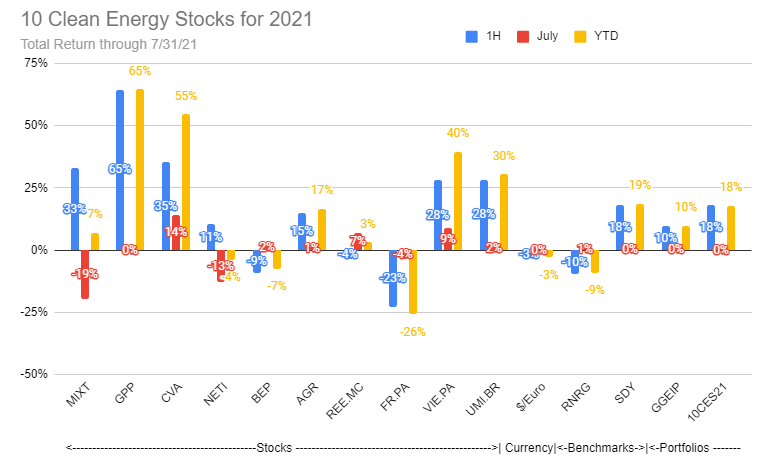 Green Plains Partners Earnings and Future Dividend
(published August 2nd)
Ethanol Master Limited Partnership Green Plains Partners (GPP) declared second quarter earnings today.  The main news remains the long anticipated debt refinancing and new dividend guidance going forward.
At the end of the first quarter, I predicted that, after debt refinancing, GPP would increase its quarterly dividend to something in the $0.25 to $0.30 range.  
The new guidance is for the partnership to target a distribution coverage ratio of 1.1x over any 12 month period, a bit lower than I anticipated, allowing a higher level of distributions.  I expected lower dividends and higher coverage ratio which would allow a higher margin for error and room for future dividend increases.
With the current $0.12 dividend, the coverage ratio over the last twelve months was 4.01x.  If the dividend is raised to reduce that to the target 1.1x, we would get a quarterly dividend of $0.437.  Given the new guidance, I expect the board of directors to raise the dividend to between $0.40 and $0.45 next quarter.   $0.48 was the quarterly dividend before the covid pandemic.
Valuation
At a $0.40 quarterly / $1.60 annual dividend, the anticipated yield at the current stock price of $13 is 12.3%.  This leaves significant room for further price increases before and when the dividend increase is announced.
I'm shifting my stance back from "Hold" to a short term "Buy" on this one.
Covanta Earnings and Buyout
(Published August 3rd)
Covanta Holding (CVA) announced second quarter earnings on July 28th, and investors yawned.  With the buyout agreement by EQT Infrastructure (announced July 14th in place, Covanta's future and current earnings are very unlikely to have any impact on investors' returns.
EQT has agreed to buy CVA for $20.25 a share, and the deal is expected to close in the 4th quarter.  This price places a substantial premium to the $15 or so at which CVA was trading before the deal was agreed, so I expect it to go through.
CVA will continue to pay its $0.08 dividend at the end of each quarter until the deal closes, meaning one more dividend payment at the end of September is likely. 
I've been buying Covanta shares when they fall below $20 as a substitute for cash.  Market valuations seem high to me, so I consider these shares to be a relatively safe place to park my money for a few months.  At $19.95, I can expect to earn $0.30 capital gain and a $0.08 dividend payment (1.9% total) in less than 5 months.  That's over 4.5% on an annualized basis, a nice return compared to the cash I would otherwise be holding.
DISCLOSURE: Long all stocks in the 10 Clean Energy Stocks for 2021 portfolio, including CVA and GPP.
DISCLAIMER: Past performance is not a guarantee or a reliable indicator of future results.  This article contains the current opinions of the author and such opinions are subject to change without notice.  This article has been distributed for informational purposes only. Forecasts, estimates, and certain information contained herein should not be considered as investment advice or a recommendation of any particular security, strategy or investment product.  Information contained herein has been obtained from sources believed to be reliable, but not guaranteed.