Nuclear energy stocks are publicly traded companies that develop, own, or manage nuclear power plants or the technology and equipment used in such plants.
This list was last updated on 2/10/2022.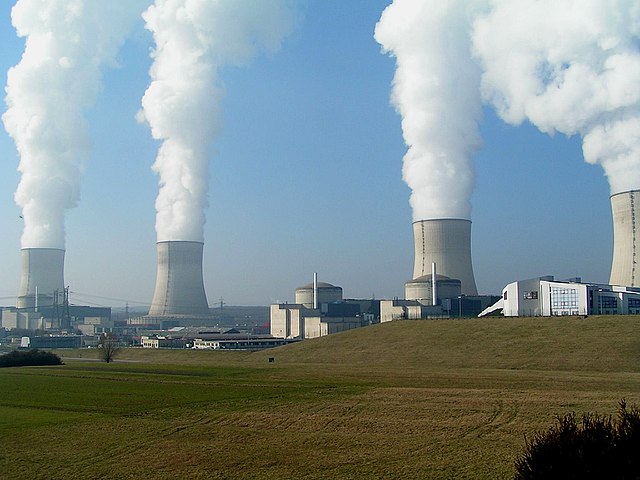 Ameren Corp (AEE)
Areva (ARVCF)
Assystem SA (ASY.PA)
Brookfield Business Partners (BBU)
BWX Technologies, Inc. (BWXT)
Cameco Corporation (CCJ)
Centrus Energy Corp (LEU)
China General Nuclear (1816.HK)
Dominion Energy Inc (D)
Duke Energy Corp (DUK)
Electricite de France S.A. (EDF.PA, US ADR: ECIFY, US OTC: ECIFF)
Exelon Corp. (EXC)
FirstEnergy Corp (FE)
Fluor Corporation (FLR)
Fortum Oyj (FORTUM.HE)
General Electric (GE)
Global Power Equipment (GLPW)
Global X Uranium ETF (URA)
GSE Systems, Inc. (GVP)
Hitachi, Ltd. (6501.T, HTHIF, HTHIY)
IBC Advanced Alloys Corp (IAALF)
International Isotopes (INIS)
Kansai Electric Power Co Inc (9503.T)
Kazatomprom (0ZQ.F)
Korea Electric Power Corp ADR (KEP.KS)
Lightbridge Corporation (LTBR)
Mitsubishi Heavy Industries Ltd (7011.T)
PG&E Corp (PCG)
Public Service Enterprise Group Inc (PEG)
Siemens (SIEGY)
Silex Systems Limited (SLX.AX)
Toshiba Corporation (6502.T)
UR Energy, Inc. (URG)
US Nuclear Corp (UCLE)
iShares S&P Global Nuclear Energy Index (NUCL)
VanEck Vectors Uranium+Nuclear Energy ETF (NLR)
If you know of any nuclear energy stock that is not listed here, but which should be, please let us know in the comments. Also for stocks in the list that you think should be removed.