After toiling away for almost two decades, perfecting its nuclear power reactor design, NuScale Power is on the cusp of commercial stage with its innovative Small Modular Reactor (SMR).  The company has applied for certification by the U.S. Nuclear Regulatory Commission (NRC) and expects to approval by 2021.  In a departure from conventional construction methods NuScale's SMR is to be manufactured in a factory setting and assembled on site. NuScale has also lined up a first customer, the Utah Associated Municipal Power Systems (UAMPS), which is planning to build a nuclear power plant with twelve of NuScale's 50-gigawatt SMRs.  UAMPS expects its project to be completed by 2026.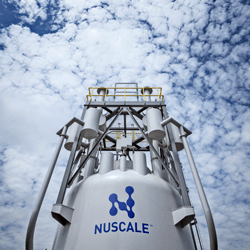 Yet privately-held NuScale leaves investors with few options to get a stake in what promises to be a seminal moment in the nuclear power industry. As alternatives to a direct investment in NuScale, investors can consider the company's partners.
BWX Technologies, Inc. (BWXT:  NYSE) has been tapped by NuScale to produce the core reactor of the SMR.  BWXT is a supplier of nuclear components and fuel to the U.S. government and proprietary fuel for the CANDU class of commercial power reactors.  Additional manufacturers may be responsible for other systems, such as chemical control or electrical.  While BWXT and other systems manufacturers are 'mission critical' partnerships for NuScale, they are not the only ones of importance. 
NuScale has had a long standing partnership with Fluor Corporation (FLR: NYSE), a well-established engineering, procurement and construction company.  Fluor had been a source of technical support as NuScale was completing the design of its module reactor.  The company has also given Fluor exclusive rights to engineering and construction contracts when the SMR is finally certified for commercial.  NuScale might be the winner in the pact.  Fluor has been designing and constructing commercial nuclear facilities since 1970, when Fluor began work on Alabama Power's Farley Nuclear Plant.  Even before Fluor had done extensive engineering and construction work for the U.S. government nuclear program.
Fluor was an early believer in NuScale's plan to bring a small modular reactor to the nuclear power industry.  In 2012, Fluor invested committed to a $30 million investment in NuScale and now holds a majority equity interest in NuScale.  Consequently, NuScale's financial performance is reported by Fluor in its Industrial, Infrastructure & Power segment.  NuScale costs and expenses net of reimbursements totaled $76 million in 2017, compared to $92 million and $80 million in 2016 and 2015, respectively.
NuScale has not been entirely dependent upon Fluor's largesse.  In 2014, the company received a $217 million multi-year funding award from the U.S. Department of Energy.  The DOE has a technical support program aimed at promoting small modular reactors through the reimbursement of first-of-a-kind engineering costs.  NuScale reported $48 million in reimbursable expenses in 2017, compared to $57 million and $48 million in 2016 and 2015, respectively.  The company expects to qualify for the entire DOE award before the end of 2018.
A stake in Fluor could be a back door to NuScale.  Fluor shares are trading at 13.9 times projected earnings for 2019.  That compares favorably against the current 25.1 multiple of Fluor's trailing earnings.  Analysts following Fluor clearly see strength in the company's future sales and earnings.  In the twelve months ending June 2018, Fluor reported $19.7 billion in total sales, providing $252.0 million in net income or $1.79 in earnings per share.  In that same period, Fluor generated $41.5 million in operating cash flow.
Cash flows have been sufficient to cover capital expenditures and a dividend payout ratio near 47%.  Strong cash flows have also helped build up the cash kitty to $1.8 billion, which just tops debt of $1.7 billion.
Financial metrics all point to a strong company  –  profitable and secure. However, Flour is still an engineering, procurement and construction business model, that is subject to quarterly variance as it works through projects large and small.  The business model is subject to project delays and changes that can unexpectedly impact reported sales and earnings. Such developments can whipsaw the stock price.  The beta risk measure is 1.68, revealing a somewhat volatile stock price.
Investors looking for smoother sailing could consider shares of BWX Technologies instead.  Its beta measure is a modest 0.59.  There is compensation to be paid for the lower price risk.  BWTX share trade at 21.1 times estimated earnings, which is favorable in comparison to a 38.1 multiple times trailing earnings.
BWXT reported $1.8 billion in total revenue in the twelve months ending June 2018, providing $158 million in net income or $1.57 in earnings per share.  BWXT is also quite successful in converting sales to cash.  In the same twelve month period operating cash flow was $175.4 million.
The BWXT balance sheet is not as flush as that of Fluor.  The debt-to-equity ratio is 175.3, revealing a heavy reliance on debt.  The cash balance at the end of June 2018, was $319.5 million and covered less than half outstanding debt.  BWXT's management team might be more confident turning up leverage because the business model of selling nuclear reactor components and fuel modules affords more predictable revenue and earnings streams.
Both BWX Technology and Fluor will benefit from NuScale's success in commercializing.  Each stock has its positives and negatives.  Perhaps the better alternative is to take positions in both companies.
Debra Fiakas is the Managing Director of Crystal Equity Research, an alternative research resource on small capitalization companies in selected industries. Neither the author of the Small Cap Strategist web log, Crystal Equity Research nor its affiliates have a beneficial interest in the companies mentioned herein.
This article was first published on the Small Cap Strategist weblog on 10/31/18 as "Stake in Nuclear Power Innovation."