The recent post "Lithium Technology Dominates Large Energy Storage Projects" featured companies offering utility-scale lithium battery systems. Industry research firm Navigant estimates that lithium-ion technology accounts for almost 30% of non-pumped storage capacity developed since 2011.  This might be due in part to the dramatic decreases in cost for lithium ion batteries.  A study completed by Bloomberg New Energy Finance found that the 'levelized' cost of energy for lithium ion batteries has fallen by 76% to $187 per megawatt hour in the first quarter 2019 from $800/MWh in 2012.
Is the story over for utility-scale storage?  Should investors look for lithium ion battery manufacturers and forget all others?  The best answers are probably No! and No!  There are other interesting battery technologies. 
Vanadium Redox Flow
Adroit Market Research has made eye catching predictions for the vanadium redox flow battery market also.  According to Adroit the global vanadium redox flow batteries market could reach $1.1 billion by 2025.  Advocates of this battery technology point to the cost benefit of long life expectancy as a strong selling point for large scale storage.   There are a number of applications where scale is necessary: electric utilities that need to manage loads from intermittent power sources, industrial in remote locations that need microgrids, or commercial operations that need back-up power for mission critical operations.
China has adopted the technology and is expected to be a major source of demand for large scale energy storage projects. That market is served by domestic provider Dalien Rongke Power Co Ltd. that holds over 100 patents on vanadium flow battery technology.  Batteries using reduction-oxidation technology, or 'redox' for short, take advantage of vanadium's unique attribute of existing in four different oxidation states.  The batteries are thus designed with one electro-active element instead of two.   One positive and one negative chamber filled with electrolyte are separated by a proton exchange membrane.  This sequestration contributes to greater safety compared to lithium ion batteries that are prone to thermal runaway.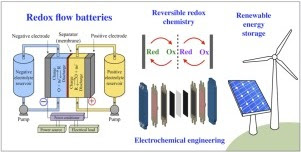 In flow batteries the electrolyte chambers are connected to storage tanks so that large volumes of electrolyte can be circulated through the cell.  The assembly makes for a large footprint, but the resulting battery provides highly scalable capacity.
UniEnergy Technologies
Closer to U.S. investors is UniEnergy Technologies (UET) based in Washington State.  Its ReFlex system is highly scalable and can be used in smart- or micro-grids or to integrate renewable energy sources such as wind or solar into conventional utility power streams.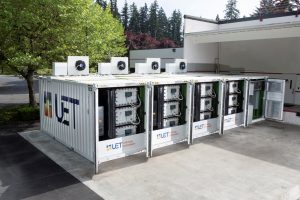 UniEnergy Technologies is privately held.  It has been capitalized by at least two rounds of venture capital.  The last reported financing was described as a Series B round that brought $25 million into the bank. Reportedly the Japanese financial services firm Orix Corporation, was a participant in the round.
UET may not need to go back to venture capitalists for future growth capital.  In April 2019, the company announced a partnership with chemical supplier The Chemours Company (CC: NYSE) to promote vanadium redox battery technology.  Chemours will supply the ion exchange membranes used for the recyclable electrolyte in UET's flow battery.  Chemours is reportedly also making an investment in UET.
Notably, Rongke Power and UET teamed up on an energy storage project in China's Liaoning Province that is one of the largest projects using vanadium redox technology.  The China National Development and Reform Commission invested in the system that secures 800 megawatt hours of storage using UET's vanadium flow batteries.  The system is located in Dalian City and is connected to the electricity grid of Liaoning Province to enable peak shaving of capacity and grid stabilization.  Rongke Power and the local utility company are joint venture partners and owners of the system.
Vionx Energy
Privately-held Vionx Energy headquartered in Massachusetts is another emerging player in the vanadium redox flow battery market.  Using technology originally developed by United Technologies Corporation (UTX:  NYSE), the company has designed a proprietary 'stacked' system that minimizes footprint to capacity.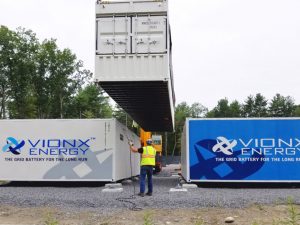 The company had an early success in partnering with National Grid Plc (NGG:  NYSE) to install and commission a 3 megawatt hour storage system at a high school in Worcester, Massachusetts.  The school will use the system to store energy from a utility-scale wind turbine on campus as well as other intermittent sources in the immediate community.  National Grid will use data collected from the project to perfect designs in a advanced distributed energy system.  The Vionx system is expected to last twenty years.
United Technologies is a significant shareholder in Vionx, but that does not mean there is no room for additional investors.  In June 2018, Vionx Energy raised $26 million through a private placement with venture capital investors, bringing total capital raised to $114 million (according to Crunchbase).  Reportedly the New York State Energy Research and Development Authority (NYSERDA) was a participant in the last round.  Early investors include Starwood Energy Group and Vantage Point Capital Partners.
Storage Alternatives
Industry analysts have established strong growth trends and health market value for vanadium flow batteries.  The environment bodes well for companies with proven products.  Investments in pure plays in this particular battery type are limited to accredited investors.  However, their larger partners offer a means to participate even if the stocks like UTX, NGG and CC reflect broader business interests.
Next post will be a brief look at yet another battery technology using sodium sulfur chemistry.
Neither the author of the Small Cap Strategist web log, Crystal Equity Research nor its affiliates have a beneficial interest in the companies mentioned herein.
This article was first published on the Small Cap Strategist weblog on 6/7/19 as "Big Box Storage".