by Paula Mints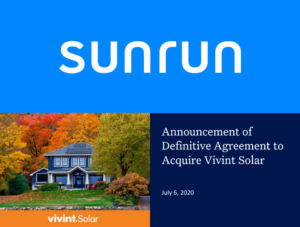 In July, Unprofitable residential solar lease company Sunrun (RUN) announced that it would acquire its unprofitable competitor, Vivint Solar (VSLR). Each share of Vivint stock will be exchanged for .55 shares of Sunrun's common stock. Sunrun indicated that there were great synergies between the two companies.
Comment: Remember when Tesla (TSLA) adopted Solar City, a company founded by Elon Musk's cousin? Sorry – remember when Tesla acquired money-losing Solar City and claimed strong growth and profits would follow? Great synergies. A wonderful future. Rainbows, kittens, and a profitable solar future for all.
The residential solar lease and residential PPA offers little synergy for customers, other than giving away their ITC and paying much more over time for having a solar system on their roof than they would if they bought it in the first place. Companies operating in the space need the cheapest cost of hardware (not always the best), fastest installs (not always the best), to reuse equipment when customers withdraw (including inverters), and to keep on adding customers to feed the machine.
Lesson: Watch this one as typically, when one unprofitable company buys another, they just create one big unprofitable company – albeit one with synergies. Gotta have those synergies.
Paula Mints is founder of SPV Market Research, a classic solar market research practice focused on gathering data through primary research and providing analyses of the global solar industry.  You can find her on Twitter @PaulaMints1 and read her blog here. 
This article was written for SPV Reaserch's monthly newsletter, the Solar Flare, and is republished with permission.