by Joseph McCabe, PE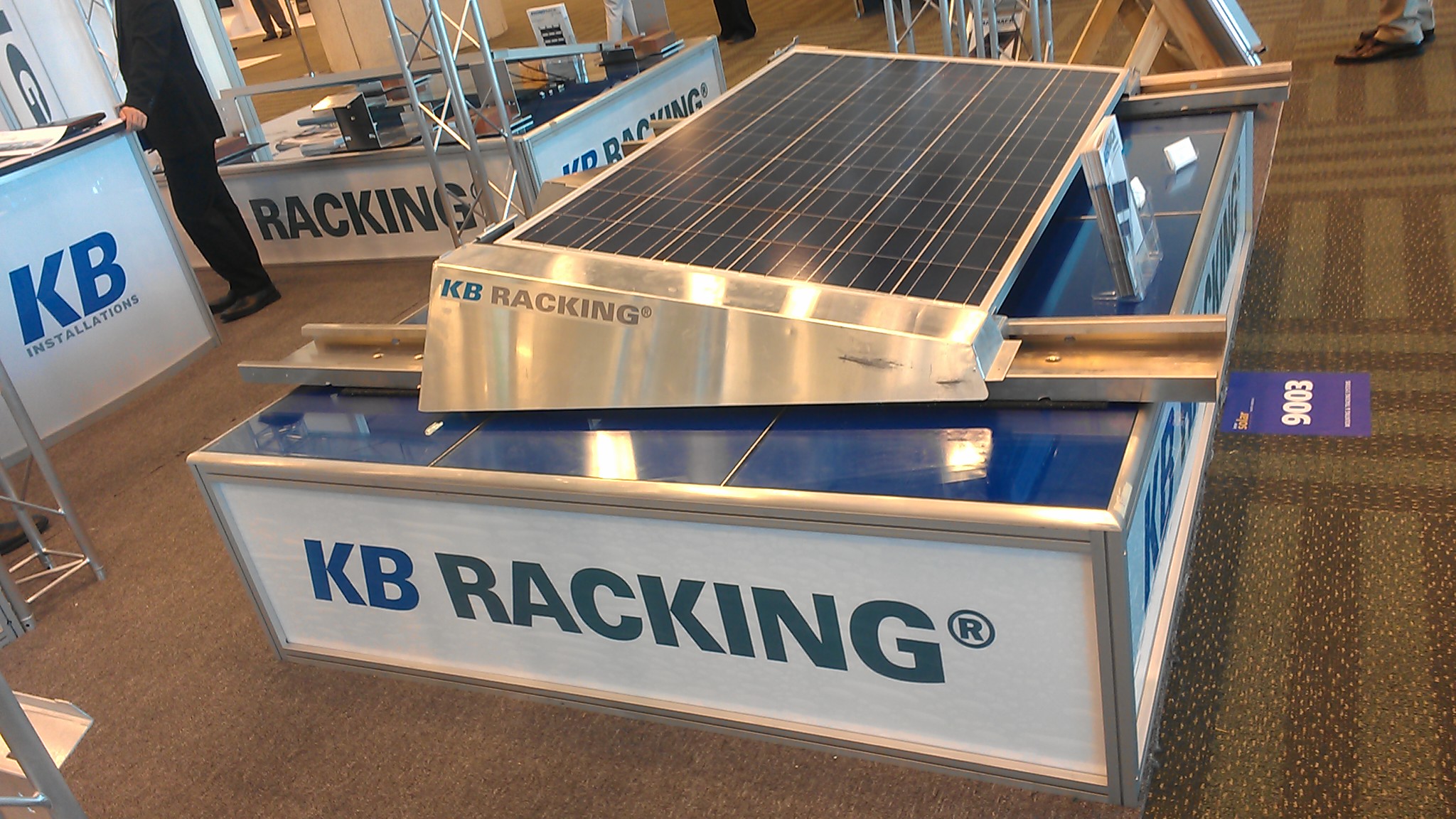 I've been attending the Intersolar conference in San Francisco for ten years since it was just Semicon, and noticed many of the most interesting trends don't show up in the headlines. This year, I noticed that the exhibit halls were packed with metal (racking) peddlers, far more than in previous years.
Solar headlines concentrate on the modules, even though there seems to be less and less differentiation in the module market, with everyone competing for a lower and lower average selling price (ASP). As a friend and PV industry expert told me, "Everyone is trying to position themselves with a better product comparing how their $0.78 per watt is better than the competitions $0.81 a watt". This is a sign of the true commoditization of modules.
Module commoditization leaves companies looking elsewhere to differentiate themselves; this year many companies are bringing new racking. systems to the solar market There is still room to play, and to be better at marketing structural solutions. Lighter weights, higher wind loading, lower maintenance, and easier installations are just a few of the ways metal peddlers are positioning themselves. Lower balance of systems costs (BOS) are being targeted by the Department of Energy (DOE) as worthy of research and development funding within their Sunshot initiative. Low cost structures should be something that can remain made-in-the-US and not outsourced to overseas manufacturing.
The PV industry has become industrialized, with much more racking and mounting hardware than in the past. You can see who is staking a structural BOS claim in the industry. Racking, trackers, roof attachments, stand offs and more vendors selling systems that look like PowerGuard. PowerGuard was a product from PowerLight, now the T5 by SunPower (SPWR), that targets flat commercial roofs with a self ballasted aerodynamic structure. The patents for PowerGuard must have expired, or the lawsuit between SunPower and SunLink must have revealed weaknesses in the original PowerLight IP such that others felt it time to get into this market. SunPower is a vertically integrated company that will not be drastically affected by this new competition in the market for commercial roof structural solutions. Is this the begining of healthy profits, then a fierce competition cycle similar to which PV module manufacturers have been experiencing?
SnapNrack is a PowerGuard like product being displayed at Intersolar for the first time. Watch not only for SnapNrack's innovations, but also their market share; these guys are the AEE wholesale distribution people who know the ins and outs of the PV industry. SnapNrack sells through Lowes, and a host of other electrical companies. Imagine the sales force from the electrical industry now able to sell SnapNrack structures. That is a nice bump in profit to the electrician trade for the same job. Similar new products at Intersolar were KB Racking's Aerorack, and Panel Claw.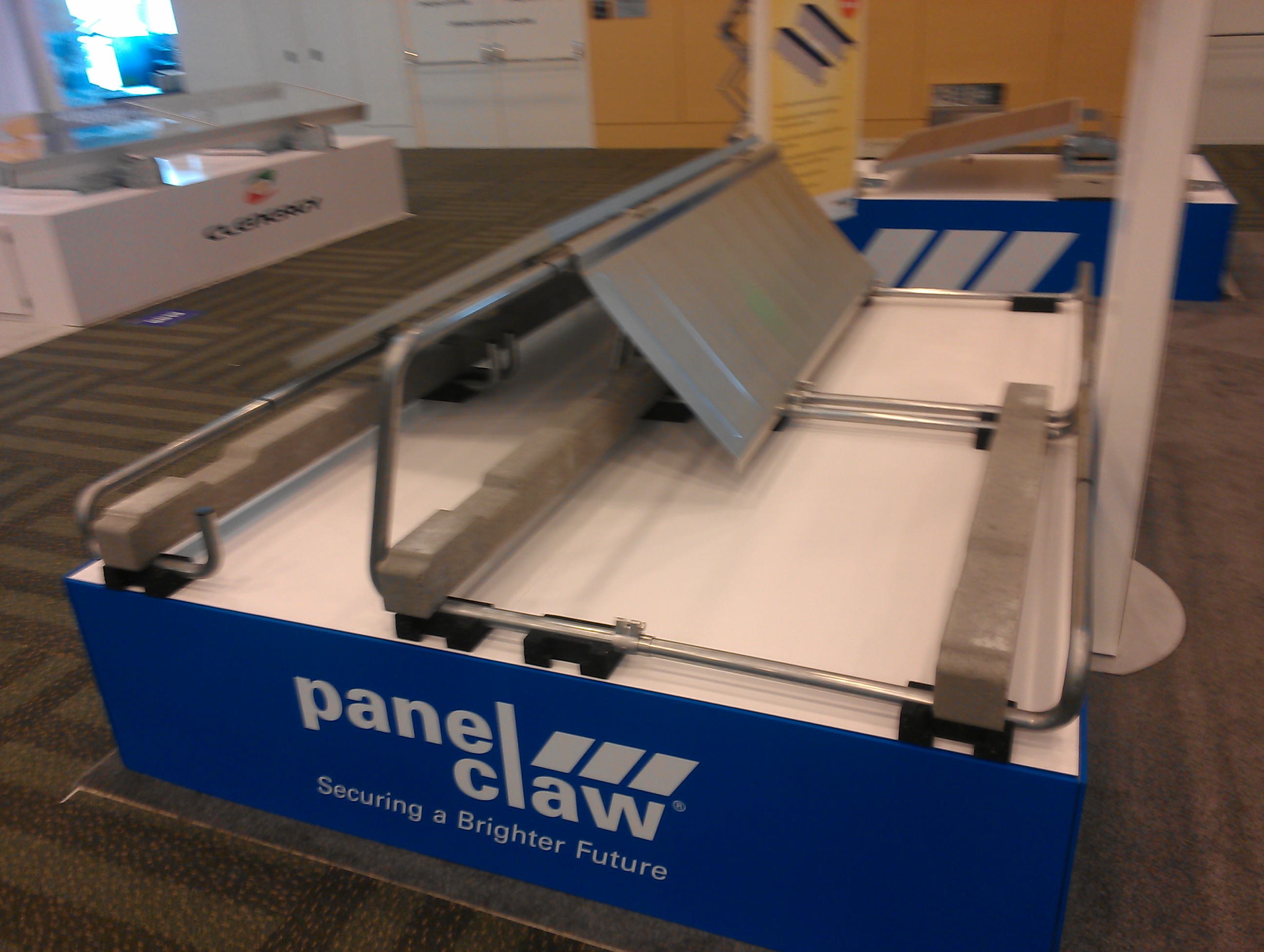 Many other PV structural attachment companies were at at Intersolar. Quickmount, now at over 60 employees, sells an excellent stand-off for sloped roofs. S5 sells brackets for holding PV on standing seam roofing. A number of major PV module manufacturers have licensed the Zep Solar products. Unirac, Unistrut, Renusol and S:Flex sell metal systems designed for the PV industry. Dozens of other companies are selling some kind of module attachment, ground screws or tracking system. These structural only companies may have difficulties competing in the mature vertically integrated PV industry, or competing with the well established distributors who have extensive industry experience.
While not metal, Solopower was showing off their flat commercial roof system called Solosaddle. There were many other rotationally molded plastic PV structure products at the show which had better assure UV protection; solar installations can be brutal on materials.
Norse Hydro (NHY.OL) had a large booth, but wasn't showing specific products. They sell aluminum, and a lot of it. Having already established themselves with concentrating solar power companies, they were at Intersolar getting attention of the project and module manufacturers needing extruded aluminum. Even the Aluminum Extruders Council had a booth at Intersolar.
My first day in San Francisco I ran into California Governor Jerry Brown who said that California is aiming for 50 percent grid tied renewables, particularly solar. This is typical political speak, but sets up the tone for the expanding interest in these PV technologies. As an example from the California utilities, the Sacramento Municipal Utility District (SMUD) reportedly is expecting to install between 500 and 800 MW of new PV in the next five years. This on top of their existing 80 MW. With this kind of market pull, many innovations will be reducing the cost to install PV, including the ones mentioned here.
Disclosure: No positions.
Photos by author.
Joseph McCabe is a solar industry expert with over 20 years in the business. He is an American Solar Energy Society Fellow, a Professional Engineer, and is internationally recognized as an expert in thin film PV, BIPV and Photovoltaic/Thermal solar industry activities. McCabe has a Masters Degree in Nuclear and Energy Engineering.

Joe is a Contributing Editor to Alt Energy Stocks and can be reached at energy [no space] ideas at gmail dotcom.